Cruising the Akamas Peninsula on a boat direct from Latchi harbour
Cruising the Akamas Peninsula was on our bucket list for our trip to Cyprus in 2019. It really is a dramatic coastline. Enormous cliffs looming over the wonderfully clear water creating beautiful reflections. The backdrop is immense.
The first cruise we took was on board Nafsika II. She is a large, modern and comfortable boat and the sister boat of the traditional Koulla BBQ Boat (more on that later). Amiably captained by Philippos and Theo – who have a wealth of knowledge to share with Nafsika II passengers regarding the ancient history of the coastline and Cyprus. And they have many personal anecdotes that have people smiling and laughing throughout the boat trip. They are very friendly and are fun to be around. 
Moreover, their staff are well-trained in seamanship and qualified in administering first aid. Both boats have safety equipment installed, so; you can enjoy your trip, knowing that you are perfectly safe. 
Cyprus Mini Cruises (the company that owns Nafsika II and Koulla) are well known for providing unparalleled and enjoyable cruises from Latchi harbour over the past four decades. The company was first started by their Grandfather Giangos.
We took the afternoon Cruise on Nafsika II, and this trip includes a BBQ meal on board while anchored in the idyllic Blue Lagoon.
The BBQ was delicious and accompanied by a lovely salad and local wine. And what a venue is the Blue Lagoon. A stunning bay that is not at all developed, not a single building in sight. It has a tiny sandy beach in the middle of the bay on which we noticed some people sunbathing who had obviously made their way here overland. In the distance, you can just see the dust of four-wheel drive vehicles making their way across the Akamas Peninsula. We've seen the road though, and it's not for the faint-hearted.
For us, a relaxing cruise, a swim, lunch and then return to Latchi harbour for a light dinner made perfect sense.
We're so glad that we found this particular boat trip. From what we have been told both Nafsika II and Koulla have undergone numerous modifications and upgrades throughout the years. And they are both very smart indeed. They have become symbols of quality throughout the entire Latchi trip boat fleet.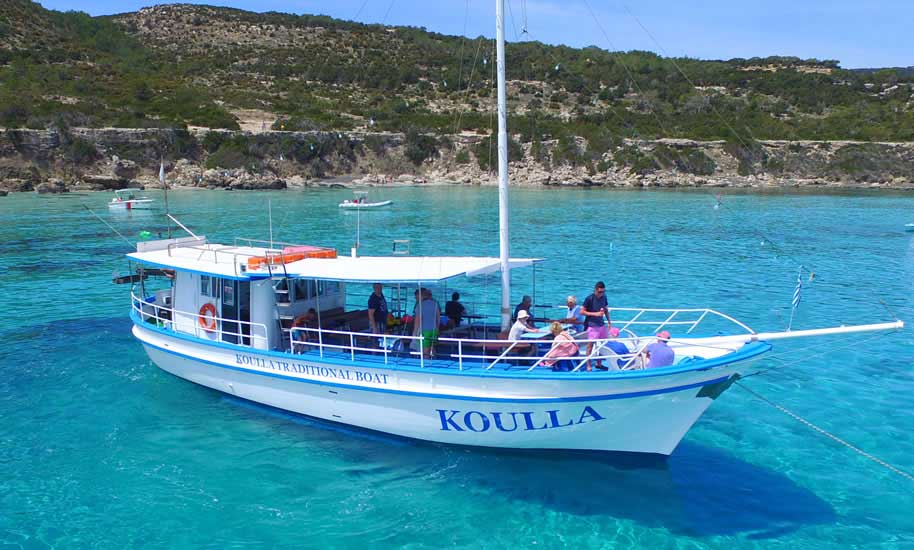 Koulla is a traditional fishing boat with space for 49 passengers: and uniquely the only trip boat of its kind in Latchi…
…whereas Nafsika II has recently been refitted and can take up to 120 passengers on each cruise.
On the day we arrived in Latchi from Paphos we intended to sail on Koulla, but she was full; so, we decided to go on Nafsika II. We're really pleased we did. It was excellent. And, a week later, we just had to come back, so we reserved the next cruise on Koulla. Consequently, we have been lucky enough to have experienced two very different journeys.
Koulla is just lovely. A quaint and cosy fishing boat that is beautifully designed. Her lines, you can see, were made by a craftsman.
Redolent in blue and White in that typical Cypriot (Greek) way she is a delightful boat. You can see that all the passengers thoroughly enjoyed their experience too. Again. What a fantastic BBQ we had on board. Just delicious, perfectly cooked, and the setting is just magical.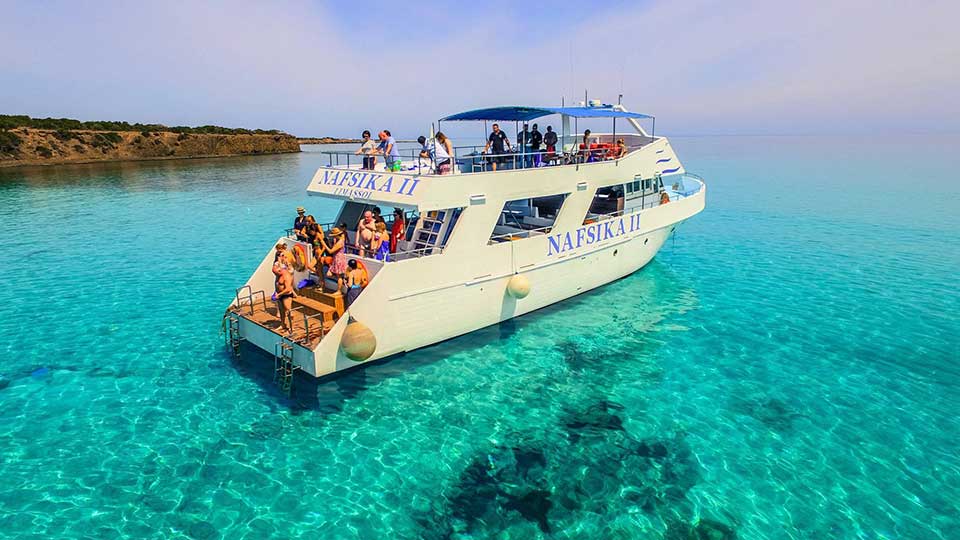 The Blue Lagoon
The Blue Lagoon is one of the loveliest places in Cyprus. Its crystal clear and shallow waters make for safe fun even for swimmers with limited ability. Its clarity makes it possible for you to see the seabed while floating around on a boat. Of course, it can be accessed by foot, bikes and 4-wheeled drive, but the beauty of the lagoon is best viewed from a boat. 
The next time we take a cruise with Cyprus Mini Cruises, we're going for the sunset cruise. We've heard they are breathtaking as the sun disappears over the Akamas. Our next bucket list awaits.
The Akamas Peninsula
The Akamas peninsula covers about 230 square kilometres and interestingly, it is named after the mythical son of Theseus (a hero of Greek legend known for slaying a man-beast). Fortunately for tourists and for those who want to go cruising in this fascinating region, it has remained untouched by the rapid property development that has taken hold in Cyprus. 
The Akamas peninsula possesses a variety of exciting things to see.
Remote sandy beaches, deep gorges and valleys underline an outstanding coastline. These fantastic features attract visitors that are looking for something a little different from mainstream tourism. It is a beautiful landscape, with crystal-clear blue waters, pines trees and flowers & fauna, some of which can only be found in Cyprus. Indeed, you shall become nature's guest when you visit the Akamas peninsula. 
Of course, this region is ready to be explored not only by sea, but also by hiking, cycling, or four-wheeled jeep safari and quad bikes. There are many lovely places to explore throughout this beautiful area.
While in the north-west Coast of Cyprus we visited other exciting places.
Latchi, Polis Chrysochous and the Beach
It may not be the most beautiful white sand that you find in Ayia Napa, but you can have much of it to yourself – all day long. And that is worth a lot more in our opinion. We were here in late June, and we could see people in the far distance on sun-loungers at La Plage, but otherwise, it was deserted. The breathtaking panorama of Chrysochous bay is definitely something you'd want to share with your family. And, we were very happy to have it all to ourselves.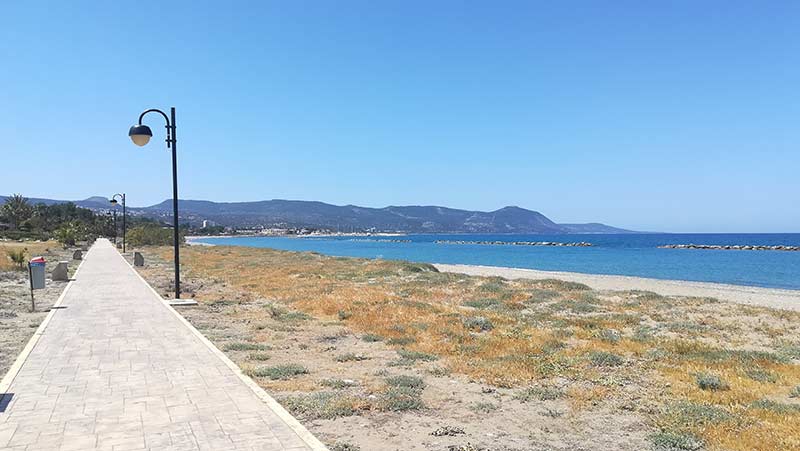 The beach is around 30-40m wide and just under 2km long. Stretching from just outside Latchi Harbour along to Polis Campsite – where we enjoyed sundowners right on the beach.
In fact, the beach continues after the campsite passed the Natura Beach hotel (now that is a lovely deserted beach) and onto the Pier at Limni. After that, it narrows considerably but continues into the distance, passed Argaka and, in patches all the way to Pomos. The Latchi and Polis beach is a mixture of mostly sand with some stretches of pebbles. The shoreline shelves gently into the sea, and if you pick the right spot, it's sandy all the way in.
Otherwise, you can be seen doing a kind of weird dance getting in and out as you stumble over pebbles. But it's not uncomfortable. The newly extended breakwater makes for very calm water that gently laps onto the shore. And the temperature of the sea is gorgeously warm, while still refreshing. The water is incredibly clear too. We saw many small fish and even the odd starfish.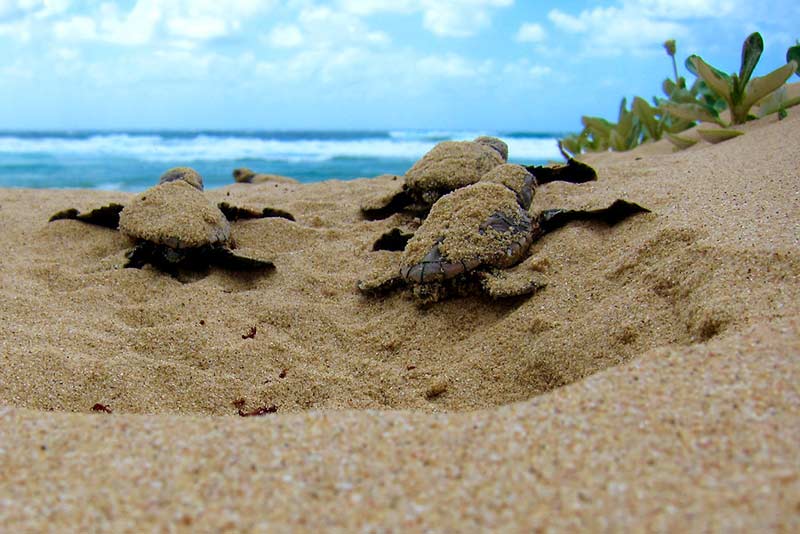 There are many turtle cages also. Like the more famous Lara beach on the other side of the Akamas Peninsula, Latchi and Polis are a nesting sites for Green and Loggerhead turtles.
They hatch in August and September and apparently you have to be on the beach very early if you hope to glimpse them struggling to the sea. Remember though, not to pick up the baby turtles and put them directly into the water. Part of their arduous trip is recorded in their memory for when it is time to return and lay their own eggs. There is a story about these rare creatures on this link.
Lara Beach, Akamas Peninsula
An isolated and a golden sandy bay that is simply stunning. Lara beach was protected by the Cypriot government in 1971. It is the most well-known site for turtle nests in the whole of Cyprus. Like the beach in Latchi and Polis, it's quite remarkable that in such a popular travel destination as Cyprus, you can still find somewhere to get away from it all. And, what a beach to do that on. The sand is deep and soft, and the beach is vast and long. You can see why it's a favourite with Turtles. 
There is a little information building (shack) with lots of interesting information about both Green and Loggerhead Turtles. We were so pleased to read such positive measures in place to care for what are becoming an increasingly endangered species.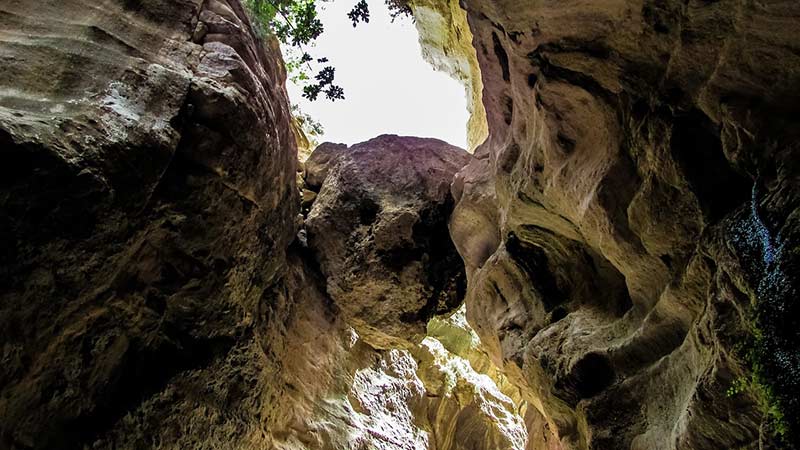 Avakas Gorge
Although not the scale of other famous gorges around the world, the Avakas Gorge feels kind of special. It was created by a stream of water that flowed over the limestone for more than a thousand years. You'll find the gorge at the beginning of the Akamas Peninsula, and it is notable for its sheer natural beauty. Indeed, it is a rare masterpiece.
The Avakas Gorge is famous for its richness in fauna and flora. It is a natural wonder that offers a great view if you enjoy taking long walks. A variety of trees including cypresses, oaks, junipers and wild fig trees fringe the edges of the gorge. 
However, the Avakas Gorge is also rich in animal life. At the canyon, you'll see hares, foxes, crows, falcons, various reptiles as well as mountain goats.
Final Thoughts…
In summary, embarking on a boat trip to the Akamas peninsula with the guys at Cyprus Mini Cruises is a truly memorable experience. It provided us with a whole new perspective on holidaying in Cyprus. We gather that Nafsika II also hold wedding receptions on-board. Our daughter, who is thinking of getting married in Cyprus in the next year or so thinks that it would be an excellent idea for a bridal cruise. You can even take a 'renew your vows' cruise – but I'll keep that quiet I think! 😉
This part of Cyprus may well be the last area that survives mainstream tourism, so visit now. You'll be glad that you did.
A blog post by Bob Pointer